The garage is often overlooked as a place for fun and leisure activities. But your garage can be so much more than just a storage area! There are plenty of cool weekend hobbies you can do in your garage that will make it the ultimate hangout spot. It may be time to turn your garage into a place of creativity and fun. Whether you are looking for something to do with friends or want to relax solo, here are five-weekend hobbies you can do in your garage.
Woodworking
Woodworking is an incredibly satisfying hobby that allows you to create unique pieces of furniture or art out of wood. You can make anything from a birdhouse to a coffee table with the right tools and materials. Invest in basic woodworking tools, such as a saw and drill, to get started. You can use high-quality wood such as cedar, oak, or walnut to create sturdy and beautiful pieces of furniture that you can be proud of. You can also repurpose old furniture or barn wood to give your creation a rustic look. Remember to use varnish to protect your projects from the elements.
Home Brewing
Home brewing is becoming increasingly popular among craft beer lovers. If you've ever wanted to try making your beer, now's the time to give it a go! All you need is basic supplies like malt extract, hops, yeast, and containers for fermentation and storage. You may also need to purchase a bottling bucket and capper. Once you've brewed your beer, you can store it in the garage to let it age properly.
After perfecting this craft, you can share your home-brewed beer with friends and family or sell it at local beer festivals. Make enough room in your garage for all your brewing equipment and supplies. Investing in shelves and other storage solutions is best to keep everything organized.
Car Maintenance
If you're a car enthusiast, then why not use your garage as an opportunity to work on your vehicle? Whether it's an oil change or a tune-up, taking care of your car in the comfort of your garage is rewarding and practical since it saves labor costs at the auto shop. Invest in a mid-rise scissor car lift to make your job easier and safer. This is also beneficial for more in-depth maintenance projects that require you to get underneath the vehicle, such as brake repairs.
By using this, there is no need to worry about getting stains on the ground from oil or other fluids from the vehicle. This will also save you the cost of going to the auto shop. It would be best if you also got a tool chest or toolbox to store all the necessary tools for car maintenance.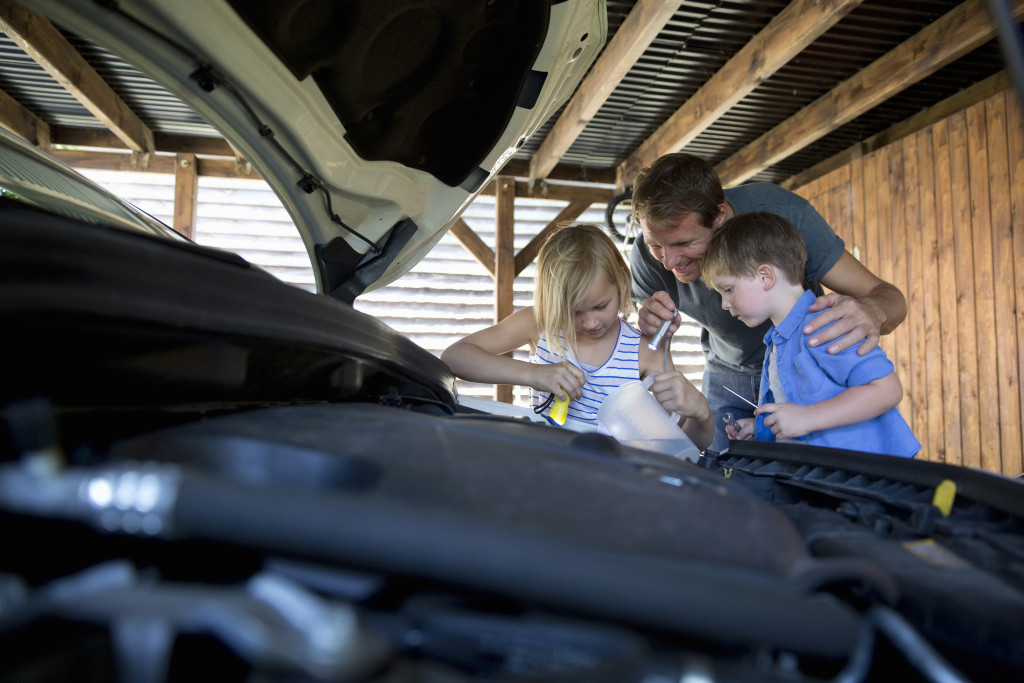 Gardening
Gardening may not be everyone's thing, but it can be surprisingly enjoyable once you get into it! A garden in your garage gives you access to fresh produce year-round without worrying about outdoor weather conditions like rain or extreme temperatures. Plus, gardening has been shown to reduce stress levels and increase overall happiness—so why not give it a try?
Set up a hydroponics system or a raised bed garden to get you started. Then, buy the soil and plants to start your oasis. Choose plants that are easy to care for and don't require too much time. You can make it sustainable by growing herbs, vegetables, and fruits. You can also buy seeds from the store or plants from a nursery to get started.
Auto Detailing
Auto detailing isn't just for professional detailers—it's something anyone can do with basic supplies and knowledge of how auto detailing works! It's also surprisingly therapeutic after a long week at work. There's nothing quite like giving your car some TLC and feeling proud when you're done. All you need are basic auto detailing supplies such as car wash and wax, microfiber cloth, and a vacuum cleaner.
You can even invest in a polishing machine to make your car look brand-new again. If you want to paint your car, you can turn the garage into a spray booth with plastic sheets and fans to suck out the fumes. Don't forget to open up the windows for ventilation! Whether you want to detail your vehicle or take on projects for friends and family, your garage is the perfect place to show off your skills!
Your garage doesn't have to be boring—it can be transformed into an exciting spot where weekend hobbies come alive. All you need is to start clearing out clutter, be creative and invest in some supplies. So take this weekend as an opportunity to explore one or all of these hobbies to find something that brings you joy!