When a family member or a friend moves into a new place, they start a new chapter in their lives. As someone who cares about them, you want to help them celebrate this significant event and make their new house feel like a home.
One way to do this is by giving them a thoughtful and practical housewarming gift. But with so many options, it can be hard to decide what to get. Here are some ideas to help you choose the perfect housewarming gift:
Welcome mat
A welcome mat is a thoughtful and helpful housewarming gift. It's a way to say, "Welcome! I'm glad you're here." A welcome mat also serves as a reminder to take off your shoes before coming inside. This is especially important in the winter when mud and snow can track into the house. Welcome mats come in various styles, so you can choose one that matches the décor of the new home. They can be placed at the front door or at any other entryway into the house. A welcome mat is a small gesture that can make a big difference in making someone feel welcome in their new home.
Coffee grinder
A coffee grinder is the perfect housewarming gift for coffee lovers. It's a way to say, "I want you to start your day off right with a good cup of coffee." A coffee grinder will help them make the perfect cup of coffee, and it will also give them a chance to try out different kinds of coffee beans. There are many different types of coffee grinders on the market, but you might want to try a manual ceramic burr coffee grinder. This type of grinder is easy to use and doesn't require electricity. It's also easy to clean and essential for coffee lovers who want to keep their coffee makers in top condition.
Potted plant
One of the best housewarming gifts you can give is a potted plant. Not only will it add a touch of life and color to the new home, but it will also help to purify the air. And, with a bit of care, it can continue to grow and thrive for years. When choosing a plant for a housewarming gift, it's essential to consider the recipient's lifestyle. Some of the best potted plants you can give as a gift are:
Aloe Vera: This plant is easy to care for and can be used to soothe burns and cuts.
Snake plant: This plant is virtually indestructible and is known for its ability to filter out toxins from the air.
Bamboo: This plant is associated with good luck and prosperity. It's also easy to care for and can grow quickly.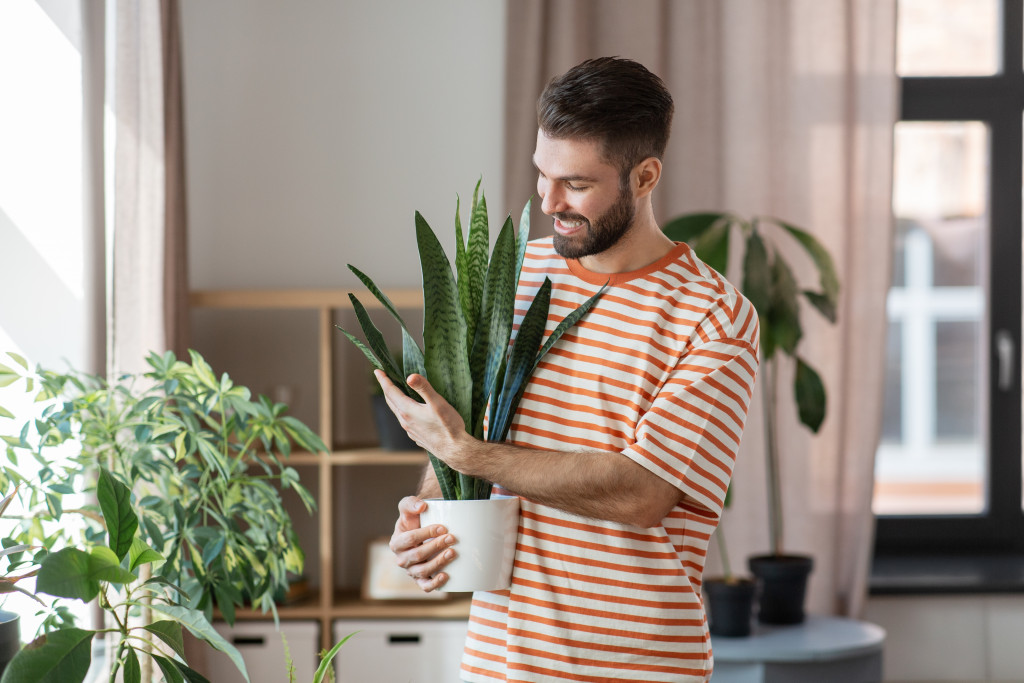 If they're busy and don't have much time for watering and maintenance, choose a hardy plant that can survive on minimal care. If they're avid gardeners, they'll probably appreciate a more delicate plant that requires more attention. Whichever type of plant you choose, your gift will be sure to make the new house feel like home.
Art print
A housewarming gift is a great way to show someone you care about their new home. It can be something practical, like a nice set of towels, or something more personal, like a piece of art that reflects their taste. If you're looking for a unique and memorable gift, an art print is a perfect option. Not only will it add a touch of personality to their home, but it's also something that they can enjoy. When choosing an art print, consider the style of their home and their personal taste. You can find everything from abstract prints to traditional landscapes. Whatever you choose, make sure it's something that they'll love.
Throw Blanket
There's nothing like snuggling up in a cozy blanket when the weather gets cold. A throw blanket makes a great housewarming gift because it's both practical and stylish. Your friends will appreciate having an extra layer to curl up with on the couch, and they'll be able to choose a design that fits their home decor.
When choosing a throw blanket, look for one made from natural fibers like wool or cotton. These materials are breathable and won't trap heat, so your friends will stay comfortable even on the warmest days. And, if you're looking for a truly unique gift, consider opting for a hand-woven blanket. These one-of-a-kind pieces are works of art that will be cherished for a lifetime.
Final thoughts
These are just a few ideas to get you started. Whatever you choose, make sure it is something that the recipient will appreciate and use. A housewarming gift is a great way to show your loved ones how much you care about them and their new journey.