As the year comes closer to its end, you may be feeling the familiar itch to redecorate or even renovate your home. Unfortunately, you may not have the time, the budget, or even just the persistence to push through with a full-blown home remodeling project.
A trend that many homeowners understandably aspire to achieve in their own homes is a rustic style. It feels homey and cozy while also encouraging creativity in interior design. The rustic design style is reminiscent of vacations spent in a log cabin at summer camps, bringing about nostalgic feelings for anyone.
However, if your home was not built already following the rustic style, making big changes to your home usually means needing a big budget for the remodel. The good news is that we have a number of redecorating hacks to bring the cabin vibes to your home without a big budget.
Bring Out the Natural in Your Home
The rustic style is not one for fancy items that make a place look done up. Stick to naturals, and you are on the right track.
Mind your textures
You can create a natural look for your walls, furniture, accessories, and the like with the proper materials. The go-tos for a rustic design are different kinds of wood, stone, and burlap and wool for fabrics.
Your structures will cost a pretty penny to adjust into wood and stone. Incorporate these features through the moveable items in the home, such as your furniture. These are the big things that largely define the theme of your home, so focus on building your theme through these items. Layer textures by having some burlap on your couches and cushion covers, as this is an effective way to relax the strong textures.
However, this doesn't mean that you can't do some editing for your walls and ceilings, too. For instance, you can use stick-on brick tiles to one part of your wall to accomplish a rough finish without overwhelming the room. Peel-and-stick panels are also a much more affordable option than actual brick walls, as you can DIY their installment instead of hiring a contractor.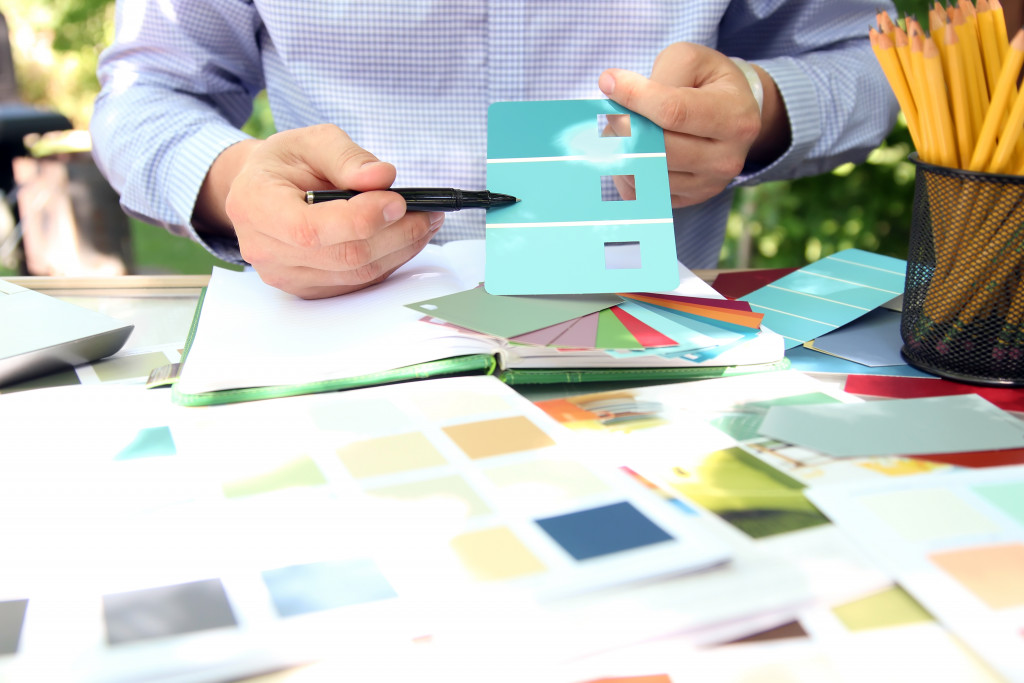 Keep a warm, neutral color palette
Since you want to keep a rustic design, you also need to stick with a natural color palette. Playing with earthy tones, such as shades of brown or green, connect various elements to keep a sense of cohesion in the space.
Do not shy away from bright colors, though. Louder counterparts of your chosen palette will work well in the space, so long as you introduce them in bits and not as a major piece of the room, like the wall or ceiling. Treat these brighter colors as accents to play around with instead of being the focus of your interior design.
Do away with flashy furniture
Naturally made furniture is far from fancy or glamorous. It is friendly and relaxing, inviting people to come in and rest in the space rather than having style and aesthetics at the forefront.
Pro-tip: When you are unsure how to tell if a piece is too "modern" for your rustic home, see if it has exposed metal, defined lines, or is geometrically designed. These are the usual features of modern home design.
If you have old wooden furniture at home, chances are, just a bit of editing on the upholstery can make it fit right into your room. Be on the lookout for your old home items that feel too "old" to use, as these can often make great decorations in a rustic space.
Emphasize the Coziness
A rustic home is a cozy home. These are a couple of ways to accomplish this atmosphere.
Pay attention to your living room
When you think of a restful space that encourages people to sit and relax, the living room should be one of the first places to come to mind. Look at the overall design of your living room and assess if it invites you to rest.
Ask these questions to check: are the colors you chose calming or energizing? Do the elements work together, or is the design too busy?
Perfection is not required
Finally, do not be too worried about the "perfection" of the place. The rustic design style keeps things natural, and one beauty of natural materials is that the visible imperfections add character to the design of the place. These rough, unfinished touches are what make your rustic home what it is, so you should embrace them.
With these ideas, you can give the rustic design your house deserves. The perfectly designed home is one that you can comfortably live in every day.