The pandemic saw many businesses asking their employees to work from home to avoid getting infected by the virus. And aside from the new work arrangement, people had to adjust to the restrictions implemented by different states across the country. Even though the situation has improved since the health crisis started, people still feel apprehensive after new variants of the virus emerged recently.
With this, setting up an oasis at home gives people a place to relax and take care of their mental health. An oasis in the backyard also gives them a place to hang out after a stressful day at work.
But a backyard oasis will attract the attention of unwanted visitors. Installing composite fence panels in the backyard prevents anyone from peering in and watching your every move. It also keeps uninvited guests away. Even as these panels are eye-catching, they are also durable and require minimal maintenance.
Here are the things to consider when creating an oasis in your backyard.
Install a Deck
Building a deck in the backyard increases the living space of the home. Setting up a couch or sofa on the deck gives you another lounging area at home. It also gives you a place to hang out and get your daily dose of vitamin D. The vitamin offers several health benefits. One of these benefits is reducing the risk of getting depressed, which many people are susceptible to due to the pandemic.
A deck also increases the home's value in case you're planning to sell it in the future. It is also easy to maintain and gives you a place to stay while checking on your children when they play in the backyard. And when the pandemic is over, a deck is a good place to hold a small gathering of friends over the weekend.
Create a Zen Garden
Zen garden is a Japanese dry landscape garden consisting of carefully arranged garden elements, which aids meditation. The different elements of these gardens include pruned bushes and trees, moss, rocks, and raked sand patterns.
Zen gardens do not take a lot of space, which makes them ideal for small backyards. They also encourage stress relief since the act of raking the sand promotes relaxation. These gardens also inspire you to meditate while you take care of them.
And when you relax and stay calm, you also increase your focus, discipline, and concentration. This makes the garden a good place to start and end your day.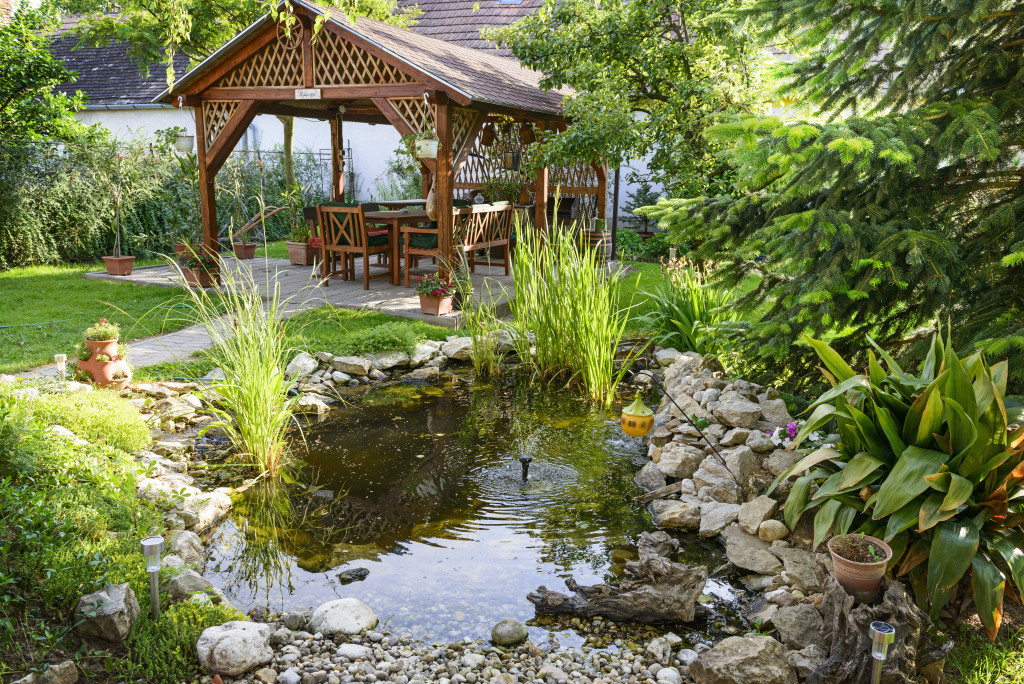 Install a Water Feature
A water feature is another backyard oasis option that helps you relax in the middle of a health crisis. The soothing sound of running water provides a feeling of relaxation and harmony. A water feature also has an aesthetic appeal that many people look for in a house, which is why homes with a swimming pool have a higher value than those without one.
You have several options on the water feature to set up in the backyard. These options will also depend on your budget. A bigger budget gives you a better water feature, including a small waterfall or a backyard sand pool. If you lack the budget, you should opt for a small pond in the backyard.
But before you set up a water feature in the backyard, you should make sure to maintain it. If you do not maintain it, it will be a breeding ground for pests, such as mosquitoes. And you want to avoid this situation.
Set Up a Pergola
Setting up a pergola gives you an ample amount of shaded area in the backyard. A shaded area in the backyard gives you a place to stay during summer. A patio in the backyard is a perfect place to set up the pergola.
After setting up the pergola, comfortable seats should be the next thing you should install on the patio. The seats and pergola allow you to get some fresh air while hanging out in your backyard.
Install a Grill Gazebo
If you are a grilling enthusiast, a grill gazebo is the best thing you should set up in your backyard. It gives you a place to hang out with your family over the weekend. A grill gazebo allows you to cook burgers or have a barbecue during weekends with the family. And when the pandemic is over, you can invite a couple of friends for a small get-together in your backyard.
Taking care of your mental health is essential during the pandemic. And one way for you to do this is to create a relaxing oasis in the backyard of your home.