It's the year 2020: A virulent disease is ravaging the world, the economy is unstable, climate change is irreversible, social and political unrest is rampant, and the future seems uncertain. Yes, current events are overwhelming, and it seems like there's nowhere to go to feel safe.
Well, your home can be that safe place. Especially in the time of intermittent lockdowns, when experts say occasional quarantines are in the cards for us, our homes need to be a place of healing, like a calming Airbnb, you never want to leave. A well-decorated and designed space filled with items you love can go a long way in boosting your mood, reducing your stress, and easing your anxiety. On the flip side, a cluttered home can aggravate your anxiety levels, negatively impact your sleep, and impair your focus.
In a world filled with chaos, you have the power to control one thing: Your living space. Here are some decor and lifestyle tips to turn your home into a healing haven.
Maximize the use of color.h
Colors can be a powerful tool to influence your mood, behaviors, and feelings. To create a space that invokes feelings of calmness and rest, start with a neutral palette as your base color theme. Beige, creams, nudes, tan, and other neutral colors can help bring a sense of calm and hominess to your space.
A neutral palette need not be boring—in fact, it can be the foundation upon which other splashes of color can be sprinkled throughout the room. Start with a neutral color theme as your base and play around with color from there.
Make use of texture.
Home furnishings can make or break the feel of a room. Bring coziness to your living space by making use of texture. Some ways to add texture to your space include but are not limited to:
Textiles. Tapestries, pillows, table cloths, blankets, sheepskins, linen beddings, and throw pillows on the couch can be the items that give you room a much-needed splash of color. These items can help break the neutrality in the room.
Rugs. When done right, a rug or a carpet can help tie a room together.
Plants. Having plants in your home can help improve your mental and emotional health, and they also help purify the air in the room.
Surround yourself with words of wisdom.
"Spaced repetition" is a science-backed learning technique that suggests that the more we see information or words, the more it remains stored in our brain. If you want to live out a certain life principle or motto, consider surrounding yourself with those words of wisdom. Hang up a decorative drop cloth fabric sign with your favorite quote or lyric, or frame those words and put it up on the walls of areas you usually walk past. Screen printing your favorite words of wisdom and surrounding yourself with them can help you remember them and inspire you to think beautiful and healthy thoughts. Surrounding yourself with uplifting and encouraging words can remind you and those you live with to be kind to yourself and others.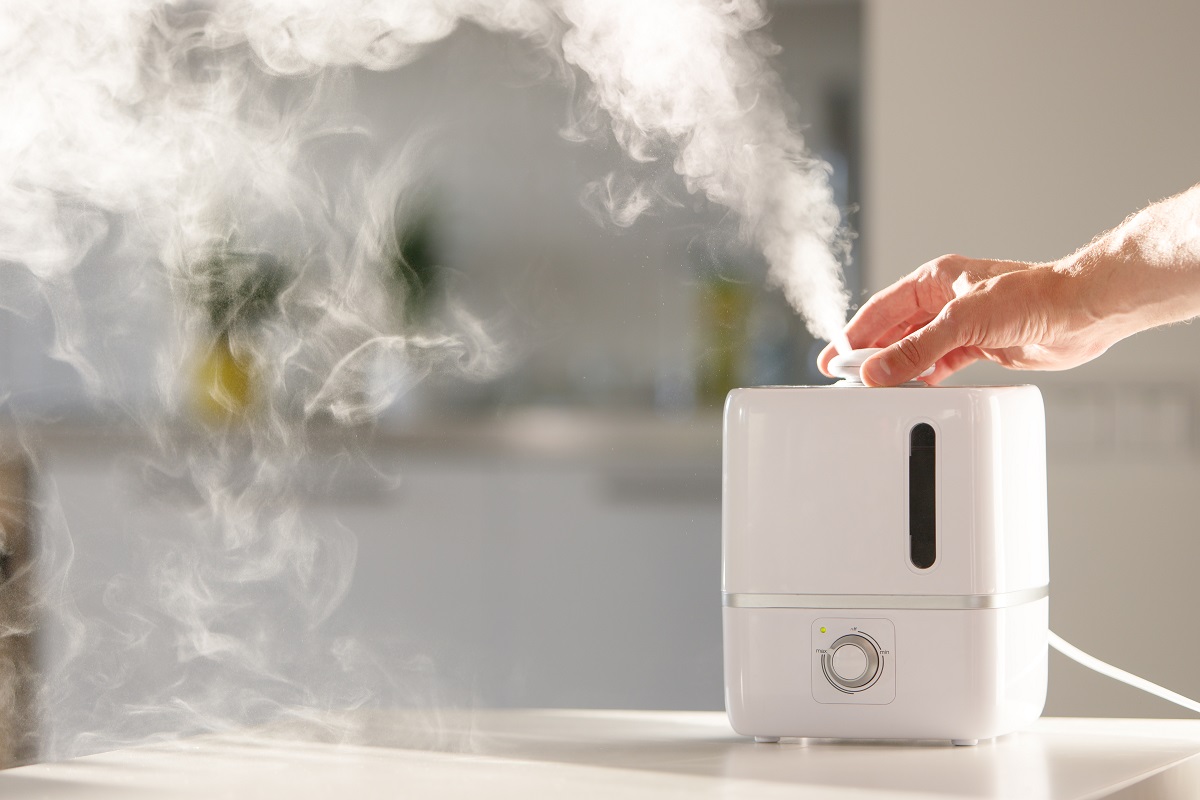 Use aromatherapy.
While evidence regarding the effectiveness of aromatherapy varies from study to study, there's no denying that a wonderfully-smelling room can instantly boost one's mood and calm an anxious mind. There's a reason you instantly feel relaxed when you enter a spa; their reception areas always smell so good.
Aromatherapy can come in the form of candles, oil diffusers, hot and cold compresses, body oils, creams, or lotions, facial steamers, bathing salts, inhalers, aromatic spritzers, and others. The scents that help induce calmness and reduce stress and anxiety are floral scents like ylang-ylang, lavender, lemongrass, bergamot, lemon, and frankincense. Find the essential oil tool and scents that work for you and allow yourself to indulge in some aromatherapy.
Consider literal safety.
Even when you're living in a relatively safe town or neighborhood, don't neglect your home security system. If you already have one installed, make sure all of its features are fully functional by testing it every month or so. Take time to double-check every component of the security system—the security cameras, door and window sensors, glass break detectors, motion sensors, and smoke alarms. Knowing that your home is fully equipped to protect you and your family from fire accidents or crime can help you sleep better at night.
Make Your House a Home
Experts say there are multiple benefits to seeing beautiful things regularly. If you find that the current events bring nothing but grief and anxiety, make your house a home and turn it into a refuge from the outside world.