Wedding attire for destination weddings is in a different ballpark compared to traditional outfits. You need to take account of the theme, color, formality, and the weather. Since choosing what to wear can be complicated, we have listed the three most common locations for destination weddings and tips on what to wear.
Beach Wedding
From five-star resorts to private islands, the beach can bring the best ceremony any couple would ever want. Listed below are our recommendations on what to wear when choosing your outfit for the wedding day.
The Best Color to Wear
Since beach weddings are often held on sunny or cloudy days, it's best to choose bright colors for your dress. Consider wearing bright yellow, light shades of blue, or vivid orange sundresses. Try flattering bright shades of color that adhere to the bride's recommendation. Do note that you should always take what color palette compliments your skin tone.
For the Bride
When choosing the right dress for your casual beach wedding, consider choosing a high-low hem, asymmetrical silhouette, or midi length dress to have an easy-to-wear dress that still displays sophistication. If you're going to wear a full bridal gown, it's best to select dresses that are simple, figure-faltering, and fluidly shaped. Furthermore, consider a wedding dress in loosely woven lace, flouncy tiers, and relaxed embroidery to give a simple silhouette that's both elegant and eye-catching.
For the Guest
Wearing a formal dress at the beach might be unusual, but it does happen. For these situations, it's best to wear floor-length gowns. Dresses that are made from lace, organza, or chiffon are perfect for beach weddings too. For casual weddings, a brightly colored sundress that complements your skin will fit perfectly for the ceremony. Since beach weddings are often held during the day, it's acceptable to wear fancy flip-flops or even barefoot. Just remember to take a pedicure before the wedding!
Winter Wedding
If flowery weddings aren't your cup of tea or you want to stand out amongst the crowd, winter weddings are for you. After all, ceremonies held when the snow starts to fall are as romantic as any summer or spring wedding. No matter what snowy location you may decide on, winter weddings make you feel like you're getting married at a winter wonderland.
The Colors to Wear
Colors pop out more than ever in winter weddings since the scenery is mostly masked with a layer of white snow. Hence, refrain from wearing white gowns to prevent blending into the background. Consider wearing dresses with muted tones and dark shades that suit your skin. If dark colors aren't for you, try rich, vivid colors, such as plum and burgundy, to stand out amongst the background. And remember, if all else fails, wear cool tones of gray, navy, or even black.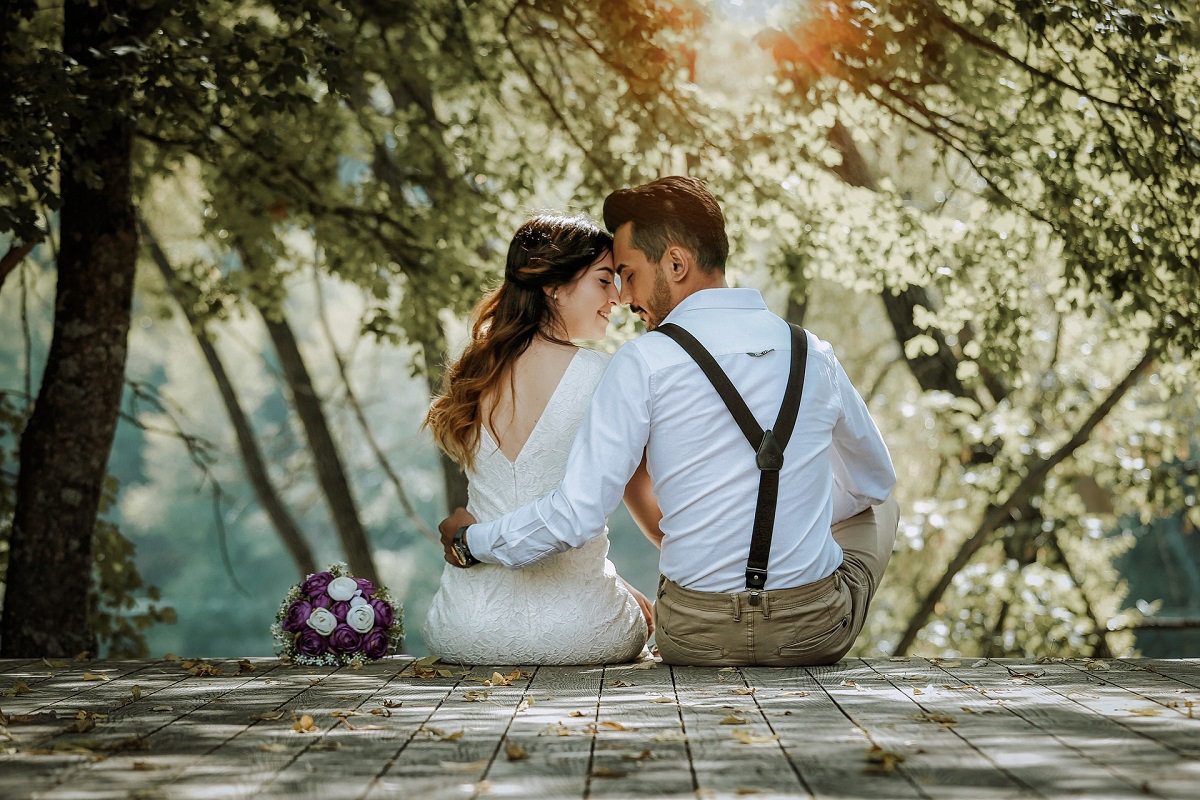 For the Bride
Winter weddings exude class and sophistication from the get-go. However, choosing a dress still depends on the location and your taste. That's why in winter weddings, long-sleeve gowns with an open back are perfect for most cases. Plus, you can also tailor your gown to have a high neck and crafted from lace. If you desire a more casual dress code, a tea-length dress with finely knitted patterns and equipped with rhinestones and feathers is perfect. Do note that exquisite, delicate designs stand out most in winter weddings.
For the Guest
First and foremost, consider the location and the weather. The harsh winter breeze is no joke, and wearing thin dresses isn't advised. Consider wearing scarves and mitts to keep yourself warm throughout the ceremony. Formal winter weddings often require floor long-sleeved floor-length dresses, while casual weddings tend to be laxer on the dress code. Furthermore, consider choosing clothes made from velvet, lace, or satin to keep yourself warm.
Garden Wedding
If you've always dreamt of tying the knot while surrounded by beautiful flora, look no further than garden weddings. Destination garden weddings feature a lush garden that keeps the atmosphere serene and calm. Plus, gardens offer sufficient privacy for you and your guests.
The Best Color to Wear
Garden weddings are filled with flowers and greenery. Hence, it's best to wear floral print dresses with flattering colors. Consider choosing pink, pastel, or bright floral colors. However, please refrain from wearing tropical dresses since it stands out too much. Remember, if all else fails, floral prints on navy, black, or yellow backgrounds are lovely for garden weddings.
For the Bride
A garden is a perfect place to experiment with colors and dresses to wear. If you're the bride-to-be, consider petal pinks, pastel blue, or light lavender dresses. We recommend soft layers of silk or chiffon to keep you comfortable during the ceremony for the fabric. Even though you're the bride, it doesn't mean you can skimp out on floral patterns. Accentuate your dress with floral embroideries, floral laces, or even a flowery veil.
For the Guest
Thankfully, selecting a dress for a garden wedding is easy. You can't go wrong with a crochet dress in pastel colors or a strapless dress with sequin. If the wedding is formal, consider floor-length sequin gowns, floral midi dress, or crepe gowns.
Now that you've got the hang of it, it's time for you to decide on what to wear to that destination wedding you'll be attending! This can be a bit tricky, but you'll look stylishly impressive whether you are the bride or the guest with these tips.