There is nothing more intimate as an activity than taking a shower. Besides being a necessary routine in your life, you will find that the bathroom plays a more critical role in your lifestyle. People tend to spend more time in the bathroom than in other areas in the house when pursuing comfort and relaxation. However, it can be challenging to do that with how old bathroom designs work.
The younger generation of homeowners would want to ensure that the area is suitable for sanitary and hygiene needs, making it critical to pursue modernization. However, you might not have any idea where to start, and you might be lacking the particular renovation skills. If you plan on modernizing your bathroom, you will benefit from learning about these critical tasks:
Integrating Aesthetic Design
Bathroom modernization aims to provide younger homeowners with a more aesthetically pleasing design for a more satisfying experience. There is a significant difference between taking a shower as a routine and doing it as a passionate, intimate, and relaxing event that you will look forward to when coming home. The design must catch your eye every time you visit it, which means renovations of different kinds are in order.
Changing wallpapers can do the trick, but you will find that there are more complicated tasks. Material selection for new walls and floors will also be necessary, allowing you to transform your bathroom into a more appealing space. Try to figure out the theme and materials you desire and start working from there. Changing the design into an aesthetically pleasing and modern one might be all you need, but you do not have to stop there.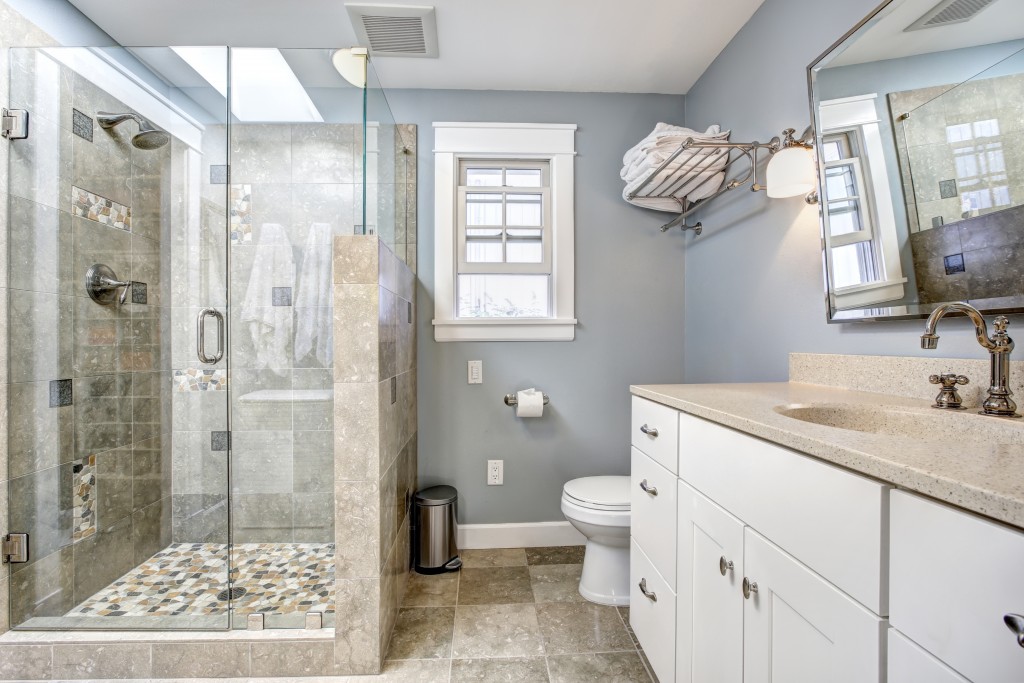 Replacing Old Hardware
You cannot identify a bathroom from other rooms without the functioning hardware homeowners expect from it. The toilet, bathtub, shower cubicle, and bathroom sink are irreplaceable items in the area. Bathroom cabinets, vanity mirrors, and shower racks are also significant additions. Once you secure them, you will create a functional bathroom suitable for your needs. Modernity, however, depends on the models and features of the hardware. Bathroom fixtures benefit from innovation and advanced technology, and you will find that modernizing the area will require you to replace the old versions.
The toilet, in particular, already has upgraded features that are necessities for average homeowners. Bidets, auto-flush systems, and modern designs are attractive enough. However, the bathtub remains the centerpiece of the area. Innovation ranges from functional and more fluid drainage systems to aesthetically pleasing designs using natural materials. Replacing or renovating old hardware can change the bathroom's entire appearance, making it critical to invest in them.
Making Space
Old bathrooms rely on functionality more than design. As long as it has a working toilet, a sink, and a showerhead, the room serves its purpose. However, it is why homeowners don't want to spend as much time in the bathroom as in other residential areas. The quick enter-exit routine is not ideal, especially when you want to make the routine shower into a more intimate activity.
Modern bathroom designs aim to create more space to increase comfort and relaxation for homeowners. However, you might not have the skills and knowledge to push back your walls and enlarge the area. Doing it yourself might cause damage to the entire property, sacrificing your living situation and resulting in expensive repairs. If you want to avoid bathroom renovations, you can take away clutter. Utilize storage areas for your hygiene and sanitary products to make the room feel more spacious. Your vanity area can also become storage space, even if you have to change the materials of the installed table.
Rearranging Plumbing Network
Modernizing your bathroom means you might have to move a few things around. You can hire an interior designer to help you with the arrangement of the fixtures to ensure you enjoy a comfortable environment. However, the renovation project might consist of reworking the pipes. Water is a valuable resource for the bathroom, making it necessary to ensure that the plumbing system works. Average homeowners might not have the skills and knowledge to perform the task by themselves, which is why hiring experienced plumbers will be essential to your project.
Home modernization can transform your lifestyle, ensuring you enjoy a more convenient and comfortable environment for you and your family. However, it can be costly and challenging to pursue renovation if you are relatively young in your career. It will also be ideal to start with the kitchen following a modernization guide. However, you will find that the bathroom can offer as many benefits when improved. Those two areas might have the most attention, but you will find that the latter will ensure satisfaction for your indoor lifestyle.