Road trips are said to be an American tradition dating back to the days when families would pile into their cars and explore the country. This kind of travel lets you see things at your own pace and make memories that will last a lifetime. With the COVID-19 pandemic still raging in many parts of the world, taking a road trip is one of the safest ways to travel.
Some mistake that first-time road trippers make is not doing any preparation before they start driving. This can lead to problems down the road (pun intended). So, before you just get in the car and go, you should do a few things to ensure your trip is as awesome as possible. Here are five things you should do before your next road trip:
Choose your destination(s)
When you don't choose your destination before hitting the roads for your trip, you risk ending up in an unwanted or dangerous place. Without a plan, you may find yourself lost and uncertain of what to do next. This can lead to frustration and wasted time, which are not conducive to a fun road trip.
Choosing your destination ahead of time allows you to do your research and make reservations if necessary, which can save you a lot of hassle down the road. When booking a hotel, read reviews to get an idea of what to expect. It's also helpful to book a room with amenities like a kitchenette or laundry facilities, as this can save you money and hassle during your stay. Also, check the cancellation policy so you can cancel or change your reservation if necessary.
Plan your route
Once you've chosen your destination, it's time to sit down and map out your route. Plan accordingly if you don't want to spend hours stuck in traffic or driving through a storm. Make sure to take into account any attractions or points of interest that you want to visit, and try to map out a route that will allow you to see as many of them as
Planning your route ahead of time is essential for several reasons:
It lets you map out the most efficient way to get to your destination.
It gives you an idea of how long the trip will take, so you can budget your time accordingly.
It allows you to make pit stops along the way, which can be crucial if you travel with young children or elderly passengers.
Prepare your car
Before hitting the open road, it's necessary to ensure your car is in good condition. This means checking fluid levels, brakes, tires, and more. You should also make sure your vehicle is clean before starting the trip. This may seem like a small detail, but it can significantly affect your overall comfort during the journey. A clean car will also be easier to keep organized, which can come in handy when trying to find something in the middle of a long drive.
And during a road trip, rocks and debris can kick up and damage your car. Consider installing a clear bra for cars, which will protect your vehicle's paint job from chips and scratches. A clear bra is a transparent film applied to the entire vehicle or specific outdoor parts. It covers the internal materials from eroding, prevents rock chips, and shields the car from weather and chemical reactions.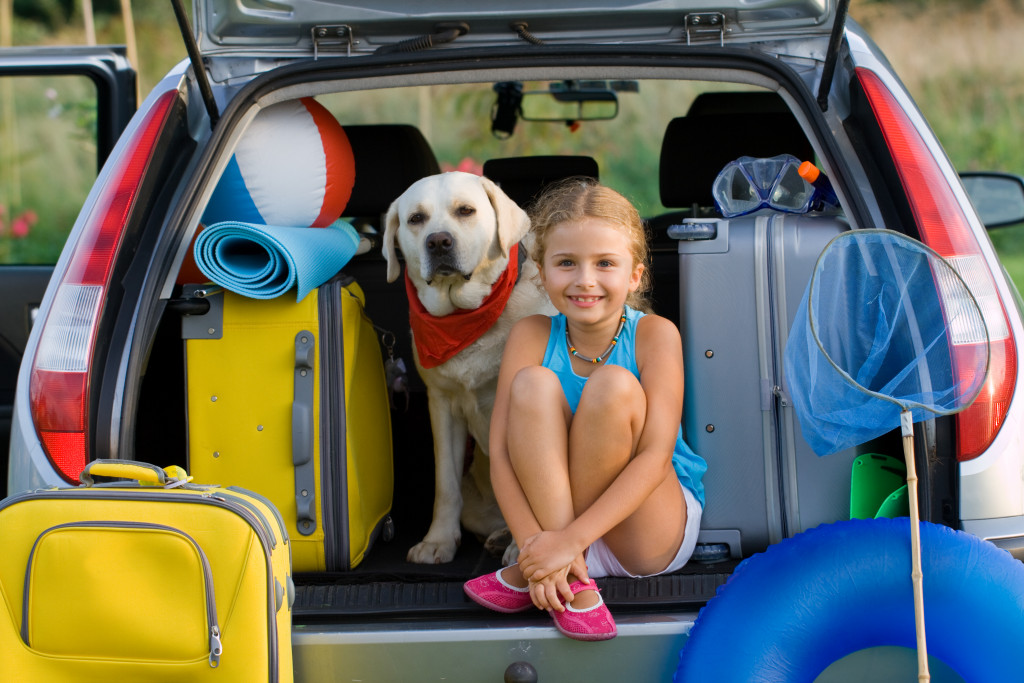 Pack your essentials
Some travelers love to go on their road trips without packing any essentials, but this isn't recommended. When planning for a long drive, packing essential items will save you from making unnecessary stops or going beyond your budget limit.
It's important to pack enough snacks and drinks to keep everyone in the car happy and hydrated. This is important if you're traveling through a remote area where there are few opportunities to stop. In addition to food and water, pack any medications, as well as a first-aid kit. It's also a good idea to pack blankets, pillows, and some games or other forms of entertainment for the car.
In packing clothes and other personal items, consider the climate of your destination. If you're traveling in cold weather, pack warm clothes. And if you're traveling to a hot environment, pack light, airy clothes and sunscreen. It's also helpful to pack items like maps and travel guides so you can easily find your way around new places.
Charge your communication devices
Before leaving on your road trip, be sure to charge all of your communication devices. This is important because you'll need to be able to stay in touch with your family and friends and make emergency calls if necessary. You will also use this in searching for gas stations, hotels, and restaurants while on the road.
If you're traveling internationally, check that your devices will work in the country you're visiting. You may need to purchase a local SIM card or rent a portable hotspot. Devices include your phone, laptop, and any other electronics you might need. This will ensure you can stay connected while on the road and avoid unnecessary stress.
In addition, it's helpful to download any apps or programs you might need ahead of time. This includes maps, navigation, and translation apps.
Plan your awesome road trip now!
Planning ahead of time is always a good idea, but it's vital when taking a road trip. By following these five tips, you can be sure your next road trip will be an excellent experience. So what are you waiting for? Start planning your trip today!