• Upgrade your home's exterior by investing in high-quality furniture pieces and decor that fit the desired atmosphere of luxury.
• Installing outdoor outlets and battery-powered lights provide both practicality and aesthetic value to the space. 
• Consider creating an outdoor kitchen with amenities like a grill, countertop, refrigerator, and storage. 
• Privacy can be achieved by adding greenery such as climbing vines, hedge walls, or faux plants/trees. 
Having an outdoor living space that you can enjoy is a luxury. Whether you're hosting friends for a barbecue or simply enjoying the fresh air, creating an area you love is possible with the right design choices. Read on to learn more about how to create the perfect outdoor oasis.
Choosing Your Furniture and Decor
When it comes to designing your outdoor living space, furniture and decor are key. The type of furniture and decor you choose will depend mainly on what kind of atmosphere you want to create. Here are some ideas you can try:
Spruce Up Your Siding
Nothing says luxurious like freshly painted or upgraded siding. Even if you're working with an older home, you can spruce it up by opting for high-quality siding repair. This can include anything from addressing any rot and damage to simply repainting the siding in a new, more updated color. This easy upgrade can give your home's exterior a boost of luxury.
Opt for Casual Pieces
Opt for casual pieces with special touches if you're hosting guests in your outdoor living space. For example, choose sturdy wooden chairs and tables that have decorative accents like scalloped edges or metal detailing. Add some comfortable cushions to the seating areas, and pick colorful tablecloths to spruce up the look.
Invest in Outdoor Seating
When you're creating your outdoor living space, it's crucial to invest in seating that is both comfortable and luxurious. Look for pieces that are weather-resistant and have plenty of padding or cushioning. You can even find options with water-resistant fabric, so you don't have to worry about spills or rain.
Add Colorful Accents
Don't forget to add some colorful accents when designing your outdoor space. Choose a few bright pieces of furniture or decorations that will really make the area pop. You can also hang string lights around the perimeter of your deck or patio for a little extra illumination in the evening.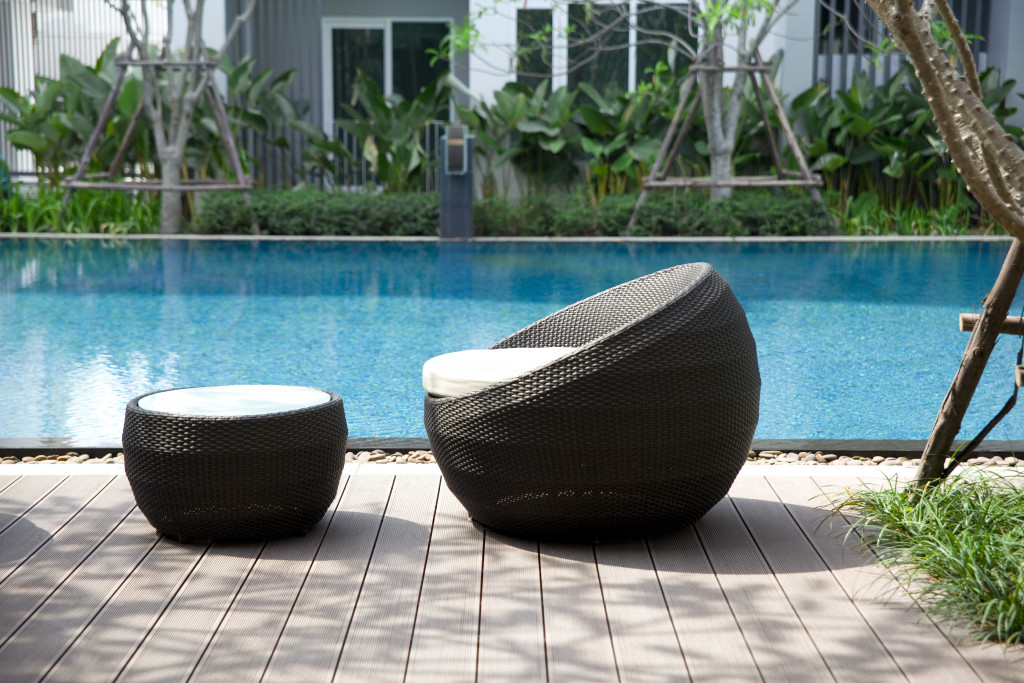 Lighting Matters
Another critical element of creating a luxurious outdoor living space is lighting. Not only does proper lighting add ambiance, but it also serves practical purposes like providing illumination when the sun goes down and setting the mood when entertaining guests at night.
There are many different outdoor lighting options available these days, from overhead lights to string lights to solar-powered lanterns—so take some time to explore what's out there before making a decision.
If possible, it's also a good idea to install outdoor outlets so you can easily plug in any electrical pieces like lamps, fans, and more. You can also invest in a few battery-powered lights to provide some light if you're entertaining outdoors when the sun goes down.
Create an Outdoor Kitchen
Nothing screams luxury like having your own outdoor kitchen. You can go as small or large scale as you'd like, depending on how much space and budget you have available.
Some must-haves for your outdoor kitchen include a grill, counter space, refrigerator, and storage. You can even add a sink and other amenities like an outdoor pizza oven or smoker.
Moreover, don't forget about the decor. Choose pieces that will stand up to the elements and also brighten up your outdoor kitchen area.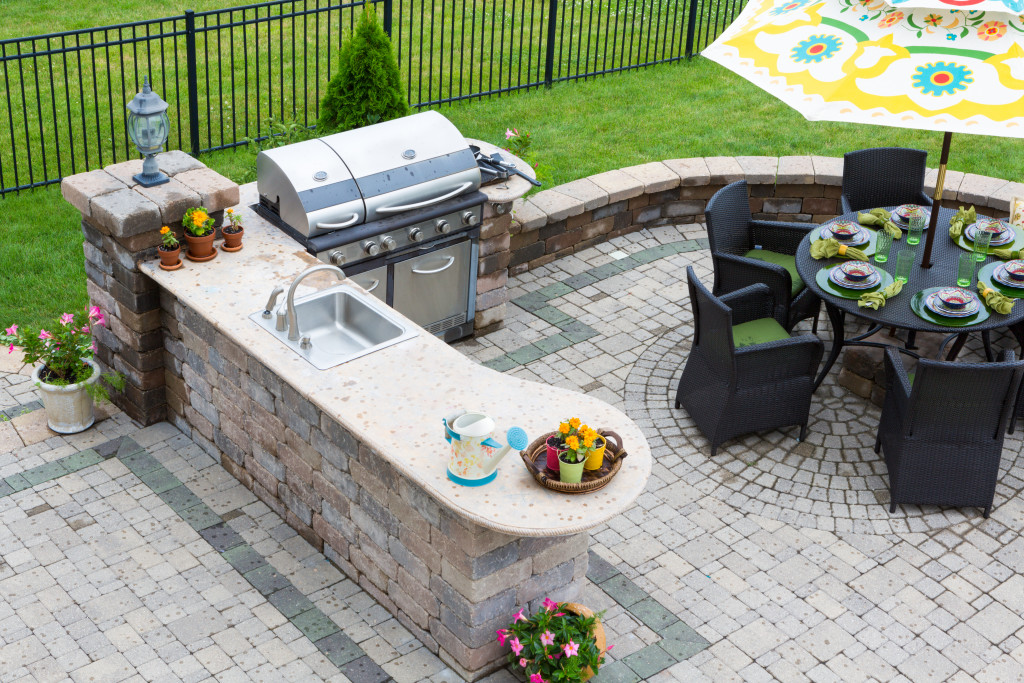 Creating Privacy with Greenery
Having privacy in your outdoor living space is vital if you want it to feel truly luxurious—and one way to do this is by incorporating greenery into your design. Climbing vines, hedge walls, and trellises are all great options if you want to create some physical barriers between yourself and the outside world without blocking out too much light or air circulation.
Of course, if privacy isn't an issue, then plants can still be used as decorative elements in your design—just be sure to choose varieties that can withstand indoor/outdoor conditions, so they don't wilt or die over time. There are many options available, so you can choose whatever works best for your space.
If you don't have a green thumb, you can always opt for faux plants and trees that look just as good as the real thing.
Creating an outdoor living space you love doesn't have to be complicated or expensive—all it takes is careful planning and thoughtful design choices. Choose the right furniture and decor based on the atmosphere you want to create, make sure there's enough lighting, incorporate greenery if desired, and voila! You'll have an outdoor oasis perfect for relaxing (or entertaining) in no time. With these tips in mind, creating a luxurious outdoor living space has never been easier.